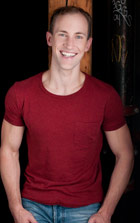 Personalized Workouts Anywhere, Track Your Progress, Get Results!™
FitSync lets you access the expertise of Dan Chisholm anytime, anywhere! Need some tips or motivation? Have a training question? FitSync keeps you connected with Dan so he can help you reach your fitness goals.
With FitSync you can download and log workouts on your PDA or mobile phone and track your progress on the Web. When you train with Dan, he can monitor your progress directly, update your training program and help you get results!

"FitSync gives you the next best thing to a gym buddy… download free training programs, log your workouts and compare your performance against a worldwide community."
Muscle & Fitness
Calling all Fitness Buffs
FitSync is a fully integrated handheld and Web-based application that lets you:
Pick free workouts from Dan Chisholm and FitSync libraries or create your own
Download and log your workouts on your handheld
Upload your results to your personalized FitSync.com account
Review graphs, charts and reports of your progress online
Compare your performance to established norms for your age and gender
Compete with others in FitSync's Global Rankings
Track health and body stats e.g. weight, body measurements, blood pressure, heart rate
Share your results with FitSync Web Widgets
FitSync is available for iPhone, Windows Mobile®, Palm™, and Java/J2ME powered handhelds. Don't have a mobile phone or PDA? You can also print your workouts and log online.
FitSync helps you manage all of your training activities so you can get the results you want:
Pick exercises (with instructional demos), workouts and programs from searchable libraries
Create Cardio, Strength or any Custom exercise, workout and programs with targets (goals)
My FitSync – Personalize your FitSync.com page for a quick view of your progress, schedule, or other indicators to monitor your performance
Quickly spot areas for improvement with color-coded trend charts – comparison of effort with goals; automatic advanced analysis
Track health and body stats: weight, heart rate, body fat, muscle mass, etc.
You and Dan can access your workouts and reports anytime, anywhere. Keep track and stay in touch even when you're traveling
FitSync connects you with a global fitness community and keeps you on track.
Whatever your goal or experience level, fitness is more fun with others! Stay in touch with your friends or make new ones online. FitSync connects you with a global community so you can learn from others, share your expertise and experiences, and get the results you want. And because your information can be accessed via the Internet, you and your training buddies can easily collaborate wherever you are. Share your success and motivate others by posting your FitSync Workout and Profile Web Widgets in blogs, profiles, emails or forums.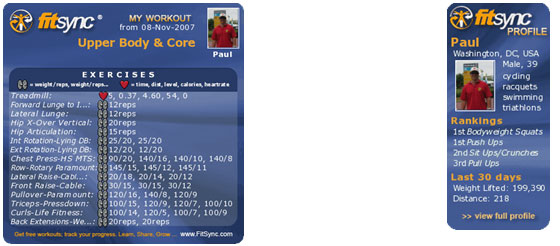 Why you benefit from working with Dan Chisholm, a Certified Trainer who uses FitSync:
FitSync is an integrated handheld and Web-based fitness program management and tracking tool that lets us manage your fitness program on PDA and the Internet. During each of our one-on-one sessions or online training, we track your workouts on FitSync, so you can view your progress in your own account. And, it's so simple to do – you simply visit our website and log into your FitSync.com account to see how well you're doing.
With FitSync you and I can:
Monitor your weight, strength, cardio and overall progress through charts and stats on your personalized FitSync Web page
Keep a daily journal
Communicate through FitSync's secure, private messaging system
You can easily access your trainer-designed workouts on your handheld or print them
You can log on a handheld and upload your training data right to your FitSync.com account
Dan will have instant access to your results
To use FitSync, you need to be a registered user. You can Sign On through our homepage or I can provide you with a username and password.
If you own a Windows Mobile, Palm, J2ME device or iPhone, you have the option of logging your workouts on your device and uploading the results to your personal FitSync.com account. To subscribe to the handheld application, go to Downloads to upgrade your account. You can also print out the workout and log your information at the Web site when you're done. If you're already registered, login to access your personal Web account.
Join fitness enthusiasts from around the world who are using FitSync to get in shape and stay in shape. Download FitSync now and become part of the FitSync community.
Get Fit, Get in Sync…FitSync®