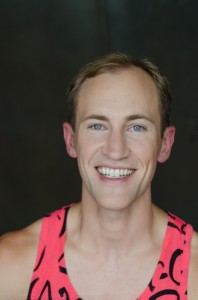 Begin the Journey Today
Sedentary lifestyle is a major health problem in the United states. More than 60% of all Americans are physically inactive. In fact, 25% of all adults are not active at all.
People of all ages, both male and female, benefit from regular physical activity. Physical activity is highly beneficial in the treatment of persons with chronic disease and disabilities.
Physical activity need not be vigorous to achieve health benefits.
A Session Description
Each workout is individualized and can include:
Free-weight training
Resistance machines
Stability and balance drills
Core stabilization exercises
Lower body/lower back partner stretches
Chair massage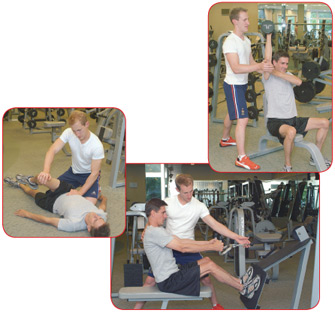 Monthly Body Measurements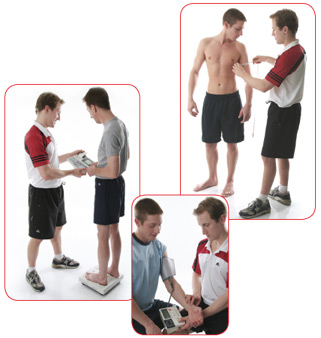 To track your personal changes through:
Body fat percentage
Circumference measurements
Weight
Resting heart rate
Blood pressure
Hydration level
Metabolism Calculators
Learning to eat to your metabolism needs
Replacing fad diets with a monitored calories approach
Programs for Personal Training Include: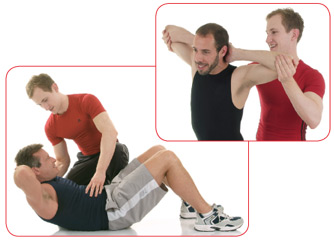 Tracking your custom workouts created by Dan Chisholm using an integrated and internet program. View your programs, charts, and body measurements anywhere.
Identifying and adjusting weak or strong areas to enhance performance.
In-home training options available.
Personal training available in 30, 60, and 90 minute sessions.
Multiple session discounts available
Partner discounts apply
Additional Services
Massage therapy sessions, 60 and 90 minutes
On-Site seated chair massage (corporate)
Stretching for health and post rehabilitative
Home training and home gym set-up
Health fair consultations
Employee health promotions and screenings
Benefits of Personal Training
Dynamic fitness balance is a simple idea:
'All areas are equal and deserve attention.'
Often people neglect multiple aspects of total fitness which leads to imbalance, pain, or injury. Dan Chisholm will modify a client's program to develop realistic goals.
A degreed fitness trainer/massage therapist can be the means of achieving health and wellness goals while enjoying the benefits of stress release therapy.
A trainer can also educate on:
Supplements
Positive diet changes
Posture and biomechanics at work and during sports
Medical history limitation and special needs programming
Facility Information
Hi Fi Fitness www.HiFiFitness.com @ 820 North Orleans, Suite 100, Chicago, IL 60610
Personal training-only facility with no memberships to purchase, simply pay for the hour with Dan Chisholm MS BS LMT and the facility is included, no other charges or hidden fees. NO CONTRACTS
35,000 square foot training area with extensive options for training modalities and styles to fit every client's goals and specialized fitness needs.

Dumbbells
Barbells and power cages
Free Motion resistance equipment
Cable cross multi station
Kettlebells
TRX suspension trainers
Elastic exercise tubing
Foam rollers
Complete Pilates studio
Bosu trainers
Swiss balls of every size
2 private treatment rooms for Thai Massage, Swedish/Deep Tissue Massage, and Partner-Assisted Stretching
2 large private training studios in additional to the main studio
Multiple heavy bags for striking
Dedicated stretching tables
Powerplate vibration training
Smith press and adjustable benches
Dedicated 25 m plyometric training lanes

Full locker rooms with lockers, multiple showers, bathrooms, and complimentary towel service, and a comfortable, inviting floor plan.
Cardiovascular training equipment for clients to utilize before and after each session with no time limit.
By appointment only
For In-home training please visit the "In Home" page on the left.
Many clients already have memberships at fitness centers in the area that enhance the personal training services provides. It is not uncommon for clients to work out at the following clubs:
Use of the equipment at these clubs is complimentary with the purchase of personal training servies with Dan. Each customized workout will utilize that equipment to enhance your total fitness plan.
Full Professional Liability Insurance: All Personal Training services insured for $1,000,000.00 through FitnessPak/Interwest Insurance Specialists, 800-873-FPAK, PO Box 8110,Chico, CA 95927, www.FitnessPak.com